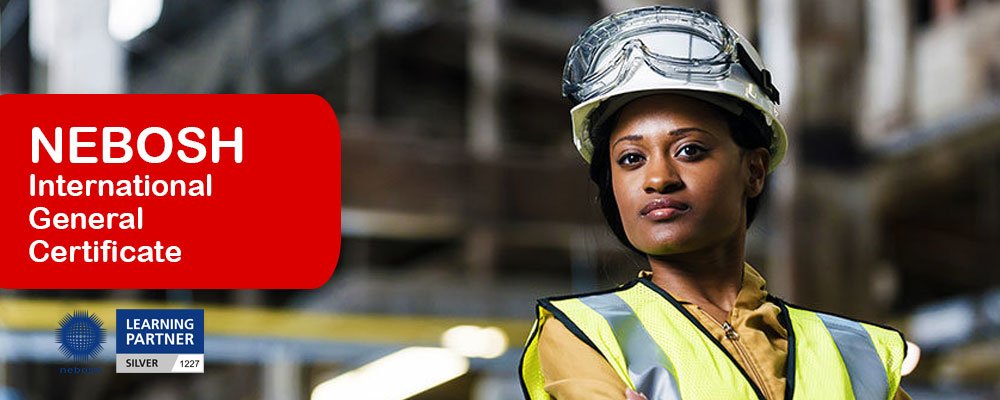 Nebosh International General Certificate – OBE

 5/5

RQF Level : 3
Duration : 10 Days
Quizzes : 11
Training Mode : Classroom | Online
Examination : OBE | Practical
Invigilation: N/A
Results Due : 40 Working Days
Certificates Due : 20 Working Days*
Employer Preference: High
Students Enrolled : 3000+
Managing health and safety is equally important as other business activities
Course Materials
Course Plan
Nebosh IGC – Joining Instructions
Nebosh IGC – Learner agreement
Terms & Conditions
Course Description
Nebosh International General Certificate is aimed to provide knowledge and skills which is required to implement in your workplace.
On successful completion of this the learners will be able to:
• Justify the need for health and safety improvements
• Advise employer on the duties towards health and safety in the workplace
• Help their organization to manage contractors
• Maintain standards to implement health and safety management system
• Positively influence health and safety culture and behavior
• Carry out a general risk assessment of their workplace
• Recognize workplace changes and their impacts and understand how to minimize these impacts
• Develop basic safe systems of work that include emergency arrangements and know when to use a permit-to-work system
• Take part in incident investigations
• Help their employer check the effectiveness of the health and safety management system through monitoring, auditing and review.
Entry Requirements
Course Content
Process
Assessment
Schedule
Fees
Instructors
FAQs
Entry Requirements
What are the Nebosh IGC Course Requirements?
Minimum Standard of English Required.
NEBOSH urges that students will need to get a minimum standard of English for many NEBOSH courses.
Learners must have the ability to comprehend and understand the concepts in the program content and take examinations.
Check your LSRW Communication Skills. For more details, please contact us
Course Content
New Syllabus Module for NEBOSH IGC
The new syllabus module for the NEBOSH IGC Course includes two units:
IG1 – Management of Health and Safety
This new syllabus module provides a wide range of benefits for employees and organisations, including the ability to recognise and control workplace health and safety issues through advanced preventive measures and proper justification of risk factors based on international standards and regulations.
Process
Assessment
Nebosh IGC Assessment
This modern qualification combines activities, learning and interactive materials to provide you with an interesting and engaging experience. It focuses on key skills that means you can instantly apply the knowledge you gain and add value to your organisation.
The two-step assessment process, which checks what you know and can do, consists of: –
An open book examination – 24 hours
A practical risk assessment
Schedule
| | | |
| --- | --- | --- |
| Courses | Registration Closing | Exam Date |
| Nebosh IGC – OBE | 15-April-2022 | 04-May-2022 |
| Nebosh IGC – OBE | 15-May-2022 | 06-June-2022 |
Fees
INR 41300/-
Payment Includes:
Registration
Study Material
Training
Admininstration
GST
Part payment, Offline and Online payment options available
Online Payment options contains all major Credit/Debits cards, UPI, Payments Geteways and more
Instructors
Manavalan E, Grad IOSH, MSc. HSE, IDip OSH.
15 years of experience, worked in Aviation, Corporate safety services, Risk Assessment, HSE Audit/Training, Material development.
Approved Tutor : Nebosh – HSA | IGC | HSL | RAW
FAQs
Q – How long does it take to get my Results for Nebosh IGC course?
A– Usually it takes 40 working days from the date of your Nebosh Igc exam to get your results. However it may be delayed for any certain reasons as well.
Q – What is the admission process?
A – We have a 3-step online admissions process.
Step 1 – Complete your simple application form on the first page of the website. or Click here to Book your Seat
Step 2 – Your application will be reviewed, and our admissions team will notify you once your application has been shortlisted.
Step 3 – Shortlisted candidates will receive a call or mail from our team. Final admissions offer will be granted upon payment of the fee and successful submission of the required documents.
Q – When do I get my certificates for Nebosh courses after getting my results?
A – If you clear the examination and pass all the paper in Nebosh IGC, then your certificates will be arriving within 20 working days from the date or results declared.
you may get in touch with us to know your certificate status on +91 8056675918
Q – I hold Nebosh IGC, What membership am I eligible for?
A – Holders of Nebosh IGC qualifications are entitled to Associate Membership (AIOSH) of the Institution of Occupational Safety and Health (IOSH).
Nebosh IGC qualifications also meet the academic requirements for Technical Membership (Tech IOSH) of IOSH.
Enquiry Form
Unit 1 - Management of Health and Safety
OBE - Sample Questions Paper
IG2 - Practical Risk Assessment Guidance